Director Pasko Barovic highlighted the importance of promoting sports in general throughout the cultural exchange and development of the competitive spirit, as well creating forever memories and valuable friendships. The positive atmosphere was contagious throughout the tournament, from young players to parents, coaches and friends. During the tournament young tennis players maintained stability, managed to present their skills at their peak and develop their own winning strategy.
GORAN IVANIŠEVIĆ AND PASKO BAROVIĆ WITH DUBROVNIK DUB BOWL 2017 WINNERS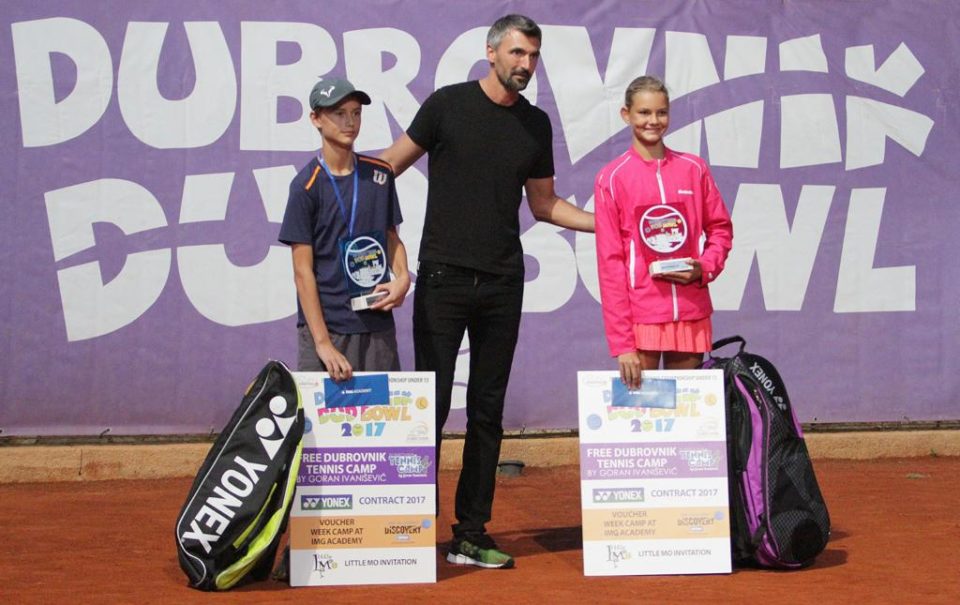 2017 AWARD FUND
This years U11 winners Zack Stephens from GB and Ela Nala Milić from Slovenia were personally awarded by Goran Ivanišević with free Goran Ivanišević Summer Camp, yearly contract with one of world leading company in sport industry -Wilson, and invitation for prestige tournaments such as Little Mo.
the winners of U13 Tobias Wallin from Sweden and was Aleksandra Simeva from Macedonia also were personally awarded by legendary Wimbledon 2001 winner and one of the most famous Croatian tennis players of all time – Goran Ivanisevic, with free Goran Ivanišević Summer Camp, a yearly contract of one of the biggest sport equipment manufacturers Yonex as well as a "wild card" for big international tournament Little Mo.
Interview with 2017 Dubrovnik Dub Bowl Champions:
U13 GIRLS' ALEXANDRA SMIEVA (MACEDONIA)
"Dubrovnik DuB Bowl is a tournament which gave me a lot of experience and let
me play through the world. I heard about this tournament from my friends who were in U11 2015 addition, one of them was the champion Boris Mrkev. It was a nice place, great organization and also a great tournament. I would recommend to
everyone who loves tennis to come to this tournament. Thank you very much Dubrovnik DuB Bowl!"
U13 BOYS'TOBIAS WALLIN (SWEEDEN)
"This was the first time I played DuB Bowl in Dubrovnik and it was a fantastic experience! The final day was super cool with a great atmosphere during the final and I am happy I came through as the winner after a tough match in three sets agains a great opponent. Next year I am too old to defend my title, but I will for sure recommend my younger friends to go and play. The activities in the evenings such as the pizza evening and the visit to the cinema were also fun. Thanks again to Pasko and everybody who makes this tournament possible and hope to see you on the tour!
U11 GIRLS' ELA NALA MILIĆ (SLOVENIA)
I would highly recommend Dubrovnik Dub Bowl to all the young players out there, because of the competition quality, amazing organization, kind and helpfull people who contributed to the overall experience. The feeling was like a Grand Slam. I am looking forward to next year.
U11 BOYS' ZACH STEPHENS (UK)
"The organization is very good, I like the way they do it. You get minimum 4 and
maximum 7 matches and matches. It is really good because in some tournaments,
you lose once and you only get one match. I would highly recommend it to people
who would like to come next year, as it is a great tournament to join."
2017 RESULTS & DRAWS
Avaliable at RESULTS OF THE 2017 DUB BOWL
DUBROVNIK DUB BOWL 2018 GALLERY